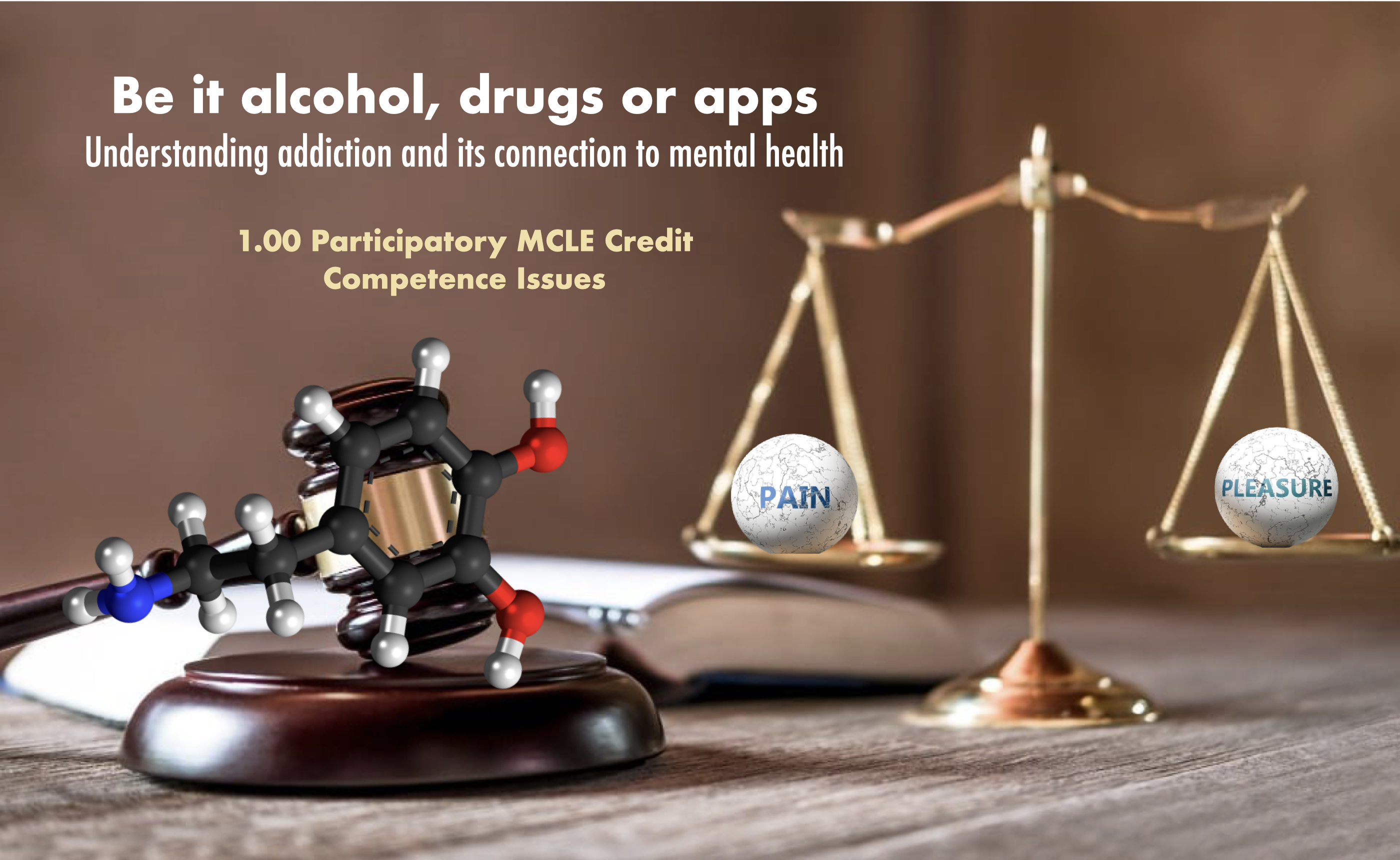 About Course
The course addresses mental and physical health issues prevalent in the legal community due to nature of the work and cultural environment of the profession. It identifies major mental disorders and their manifestations in the legal profession, which can impair decision-making, problem-solving, risk management and general day-to-day functioning, making clients, people and businesses vulnerable. Drawing upon contemporary neuro, physiological and social sciences, the course also provides fundamental education to State Bar members on common types of addiction, including both substance abuse and increasingly prevalent digital addiction, which has worsened due to the COVID-19 pandemic. With explanation of underlying neurological processes, the course offers better understanding of various addictions and resources for their identification and detection. This is one of
our courses accredited for MCLE Competence Issues by the State Bar of California
.
Show More
What Will You Learn?
"A well-presented program with very interesting and useful information. Very helpful and a new method of approaching a topic that is very necessary to our profession." - B. Carter, Esq.

"We always talk about lawyer mental health but it's usually with respect to substance abuse. I appreciated your focus on the underlying elements that may lead us to that." - E. Carlstrom, Esq
Course Content
Greetings and Introduction
Context and Overview
Mental Health Issues Affecting Lawyer Competence
Substance and Behavioral Addictions
Self-Assessment Tests and Other Resources for Help
Review and Closing
Reflection and Q&A
Quiz
Compliance Reporting Documents, Written Materials, and Other Resources
Student Ratings & Reviews
"Be it Alcohol, Drugs or Apps..." is an informative and rather unique overview of the delicate yet critical issues of substance abuse and addiction. I had some knowledge of the topics of stress and depression beforehand and their relationship to addictions, but this course gives considerable insight into these problems, their occurrence and treatment. Though it does not serve as a cure for such problems, the course can greatly aid in identification and serve as a guide towards obtaining effective treatment. It covers recognition of these conditions and also offers scientific explanations as to their cause and progression.

I highly recommend this course for those in the legal profession, which has a high incidence of stress and depression-related disorders.